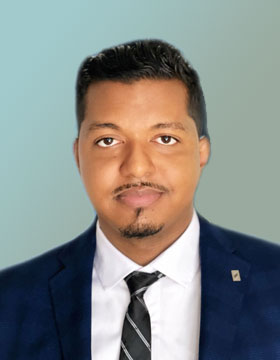 Investment Operations Manager
Steffan Dwarkasingh
Investment Operations Manager
Toronto Office : (416) 733-3292 x 224
Steffan hails from the Caribbean Island of Saint Lucia where, after receiving a tennis scholarship in 2012 he travelled to the US to pursue his undergraduate degree and play NCCA Tennis. Steffan graduated from Malone University in 2015 with a focus in Accounting & Business Administration and a minor in computer science. Soon after graduating, Steffan worked at a regional accounting firm as a staff accountant in Cleveland Ohio and subsequently went on to co-found the financial literacy non-profit Fin-mango with a friend from university. For two years as the Director of Operations Steffan was exposed to all aspects of Finance startups as well as Non-profit operations, while giving back to the community in the form of Financial Education.
Steffan returned home in 2018 where he joined the Accounting & Treasury team at the offshore investment bank Boslil Bank Limited. After a year he was promoted to the Investments team where he managed all aspects of investment operations, foreign exchange and assisted in qualitative fundamental analysis.  He remained at Boslil Bank Limited for 4 more years before joining TriDelta Financial.
In his spare time Steffan likes to play tennis and go snowboarding with his wife. He also enjoys travelling and exploring.
Contact Steffan today at (416) 733-3292 x 224 or email at steffan@tridelta.ca.