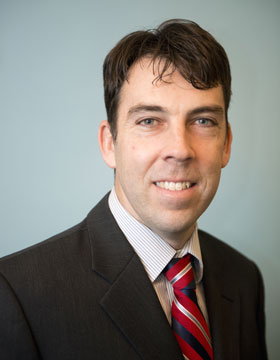 Portfolio Manager, Head of Equities
Cameron Winser, CFA
Portfolio Manager, Head of Equities
Toronto office: (416) 733-3292 x 228
Cameron graduated from York University in 1995 where he studied Psychology and Business. Cameron began his financial career at Franklin Templeton.
In a search for greater opportunities, Cameron left Franklin Templeton for the Royal Bank of Canada where he worked for more than 11 years. While at RBC Cameron worked with the discount broker group and RT Investment Counsel, but most of the time was spent at RBC Asset Management. At RBC Asset Management Cameron started out as a Derivatives Analyst and Trader but quickly added Quantitative Analyst and Portfolio Manager, North American Equities to his title as he co-managed several RBC mutual funds. While at RBC Cameron continued his educational pursuit and completed the Chartered Financial Analyst program and continues to hold the CFA designation.
In 2007, Cameron joined Scotia Asset Management where for several years he served as the Director of U.S. Equities & Derivatives.  Cameron's broad work experience has covered both U.S. and Canadian equities managing multiple mandates from conservative income strategies to more aggressive growth strategies.  Over the years he has continued to develop his unique investment process which combines quantitative, technical and fundamental analysis.
Away from the office, Cameron enjoys spending time with his wife and two sons. He is a very active volunteer and coaches a variety of youth sports. He also enjoys mountain biking, volleyball, and golfing.
Contact Cameron today at (416) 733-3292 x 228 or email at cameron@tridelta.ca.