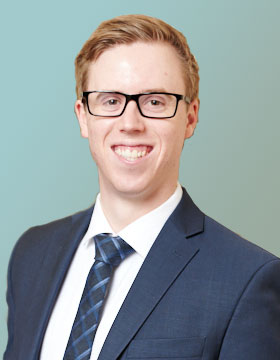 Wealth Advisor and Portfolio Manager
Kyle Taylor, CFA, CIM®
Wealth Advisor and Portfolio Manager
Toronto office: (416) 733-3292 x 233
Kyle Taylor works directly with clients to provide flexible investment management solutions and personalized financial plans.
Kyle has completed the Chartered Financial Analyst (CFA) designation and the Chartered Investment Manager (CIM) designation.
Kyle worked as an Investment Advisor at Mandeville Private Client prior to joining TriDelta Financial. Over the years, Kyle has developed a passion for helping people and an appreciation for the individualized service clients expect. No two people are the same and nor should their investment portfolios be. Each individual household that Kyle works with is unique in their own right and can expect a personalized plan to accomplish their financial goals. Kyle works best with those who are advice-seeking, focused on the long term, and share many of his core values such as professionalism and integrity.
Kyle is a graduate of the Sprott School of Business at Carleton University where he earned his Bachelor of Commerce with a concentration in Finance.
Away from the office, Kyle is an avid golfer, sports enthusiast, and enjoys spending time with family and friends.
Contact Kyle today at (416) 733-3292 x 233 or email at kyle@tridelta.ca for a no obligation review.