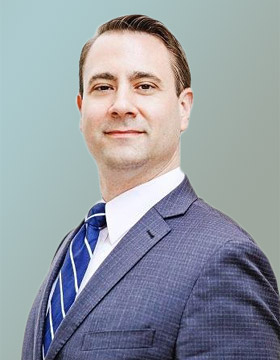 Matthew J. Ardrey, CFP®, R.F.P., FMA, CIM®
VP, Wealth Advisor and Portfolio Manager
Toronto office: (416) 733-3292 x 230
Matthew joined TriDelta in 2016 and brings with him over 15 years of experience dealing with high net worth clients' financial planning, tax and investment management situations. Matthew majored in Finance and Economics at the University of Western Ontario and then went on to further his financial education through the Canadian Securities Institute. He has been a Certified Financial Planner (CFP) since 2001.
After a brief stint in the banking industry, Matthew decided that he wanted to be able to provide his clients with independent financial advice. This prompted his move to T.E. Wealth. At T.E. Wealth he quickly rose through the ranks earning the position of Vice President.
At TriDelta Financial, Matthew provides his clients full comprehensive financial planning and investment management solutions. Never far from his thoughts are the impact of taxes on his clients' situations and how best to mitigate them. Matthew sees the big picture, and is proactive and detail oriented in working with time-pressed clients. They trust him to keep their interests first and foremost in designing and implementing customized plans that will lead them to financial independence.
A widely-sought expert in the media, Matthew can distil complex financial topics concisely for his clients and reporters. He's been quoted in several publications, including the Wall Street Journal, Globe and Mail, Financial Post, Toronto Star, MoneySense, Advisor.ca and BusinessLink magazine. Matthew frequently provides his expert advice to the "Financial Facelift" series feature in the Globe and Mail's Report on Business.
Matthew remains an active member of the community through his volunteer work with The Rotary Club of Burlington. He has also just recently completed a volunteer trip to the Dominican Republic where he was part of a team that built a home for a family in need.
When not working or volunteering, Matthew enjoys spending time with his three children, playing golf and traveling.
Contact Matthew today at (416) 733-3292 x 230 or email at matt@tridelta.ca for a no obligation review.